Tina Owner/ Tattooer/ Piercer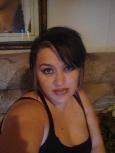 Hello My name is Tina I am the owner and a Tattooer at Inkternal Body Art. I have been an artist my whole life, I remember when I was a young girl my most favorite thing ever were my box of crayons and coloring books, always daydreaming and doodling so its no wonder that I became a tattooist, And I truly love my job. I'm best known for my custom work but I love to do anything artistic, girlie, colorful, realistic, portraits, basically anything unique. I love to make my clients feel proud of their new art. I'm willing to work with anyone in any style your looking for. With that being said I'm looking forward to meeting you and making your tattoo thoughts into your new tattoo one of a kind work of art!! XOXO~ Tina

Let me introduce my other amazing artists...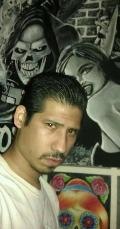 Erick Tattoo Artist

Erick has been tattooing for years now a true artist at heart he always has a pen or a paintbrush creating breathtaking works of art. His great attention to details crisp clean line work in the art styles of Japanese, Urban, Graffiti, Black and Grey and his amazing freestyle makes him one of the most sought after tattooers in the Houston area. He is truly a priceless addition to the Inkternal Family. Erick can be seen everyday, and by appointments on Wednesdays.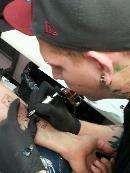 Daniel Tattoo Artist / Piercer

Another Priceless addition to Inkternal family is Daniel, he has been tattooing for 3 years & in such a short time become one of houston's Best. His flawless Black and grey unique shading leaves his customers in awe. Not just limited to greyscale he is a well rounded tattooer in the art styles of Realism, Color bomb and new school. If you are looking to get a wicked sick tattoo Daniels unique custom skull designs are sure to please. When he is not tattooing he's building tattoo machines. His willingness to work with any one and his commitment to his customers complete satisfaction makes Daniel a Top choice. You can find Daniel tattooing every evening except Mondays.

Visit the gallery to see our artists works.